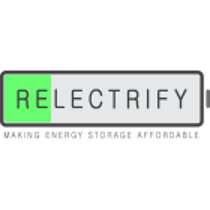 Operations & Finance Lead - Sr Manager or VP at Relectrify
Electrical/Electronic Manufacturing, Business Development, Full-time, Melbourne, Victoria, Australia
About Relectrify

Relectrify is a high-growth venture that builds cutting-edge technology to reduce the cost and unlock extra lifetime in lithium-ion batteries. By combining innovative electronics with intelligent algorithms and data analytics, our technology creates more affordable and longer-lasting energy storage systems for households, the power grid and beyond.
Relectrify was founded in 2015 out of research at the University of Melbourne. Since then, our technology has been successfully demonstrated in projects globally including with American Electric Power, Nissan US, VW Group Germany, Counties Energy New Zealand and 4R Energy Japan, and is seeing uptake across numerous product categories. We are privileged to be backed by leading investors including CEFC Australia, Energy Innovation Capital US, Energy & Environment Investment Japan, European power utility EDP, and South Korean industrial group GS.

Note: This role strictly requires permanent working rights in Australia. A location in Melbourne is preferred, but other Australian locations can be considered.

About the Team
Relectrify consists of a world-class team, who thrive on working together and solving seriously hard problems with a view to make a positive impact. Team members are given high autonomy with the ability to access support as necessary. As a venture-funded company, our focus is to rapidly enter markets where we can make a real difference.
In short, we are a group of motivated individuals rapidly deploying cutting-edge technology to make a positive impact. We also like discussing future trends, enjoying good coffee, board game evenings, and a healthy stream of positive humour.
About the Technology
Relectrify's advanced battery management system (BMS) and inverter comprises of three parts: hardware electronics controlling power flows inside battery packs; embedded software algorithms that inform how the hardware electronics operate; and data analytics to allows customers to monitor their batteries and allow continuous improvement of Relectrify's algorithms. Together Relectrify uses these to notably increase battery performance and lifetime.
Capable, affordable battery storage unlocks value for customers from farms to solar houses, power grids, and beyond. Relectrify therefore actively forms strategic collaborations with innovative, sector-leading storage companies across the world to jointly develop and release uniquely positioned storage products.
The Role

We are looking for a highly capable and organised individual operator with people management capability to lead Relectrify operations and finance team.
You will thrive in a dynamic and constantly changing environment, be a highly capable operator with strong attention to detail across a wide range of (in many cases paralleled) activity, and have a passion for helping team members professionally develop and grow.
In your role, you will work directly with our CEO and broader leadership team on tasks including:
Running and leading the behind-the-scenes operations involved with scaling a technology company

Office & facilities: ensuring our team has all they require to undertake world-class work
Administrative HR: arranging team member contracts and on-boarding / support for our growing team
Program proposals: Lead Relectrify's written submissions for key government or industry opportunities

Running and leading Relectrify's finance function, including

High-level fay-to-day management of bank accounts, payroll and reconciliation
Updating and refining our company's financial model and forecasts on a rolling basis

Contributing to finding highly motivated and capable people to grow Relectrify's team operations and finance team from 2 FTE to 4+ FTE spread across Relectrify's major geographic markets of EU, Asia, and US
(Optionally, depending on the candidate) Involvement in Relectrify's team culture activities
(Optionally, depending on the candidate) Involvement in Relectrify's global marketing activities
(Optionally, depending on the candidate) Involvement in building Relectrify's intellectual property portfolio
(Optionally, depending on the candidate) Reporting to our board of global investors on matters incl. finance and operations
Requirements
About You

- 10-15+ years experience in industry roles in operations, finance and/or legal functions
- A degree in accounting, finance or law (or equivalent degrees or experience)
- Very high attention to detail and ability to bring a multitude of parallel tasks to full completion
- Excellent English language skills in writing, with ability to read and understand complex legal agreements
- Natural integrity and a personal passion to support team members in their professional development
- An interest in sustainability and/or energy, and the deep motivation to make a positive impact
- Permanent working rights in Australia. A location in Melbourne is preferred, but other Australian locations can be considered.
Nice-to-Haves - but willing to waive for promising candidates
- Experience in growth companies with 15-80 team members
- Experience rapidly growing world-leading technology teams
Benefits
Work environment
High independence, with a clear focus on delivery and quality. You will work immediately alongside our executive team.
Remuneration includes an opportunity to earn company share options, offering you an ownership stake in Relectrify.
Participation in a high-growth team in the midst of expanding from its original core in Australia to multiple global hubs.
Flexibility in working hours and office/home location to fit in with life more broadly, whether family, sports or other joys.
Flexibility in leave to enable team members to define their own renumeration-leave optimum.
Learning
Pay-you-back scheme on relevant online courses and other training.
We encourage you presenting at key conferences and events, and cover associated expenses.
Other Benefits
Ability to co-create our company culture together as a team, including social events and activities.
A changing collection of fresh fruit, occasional sweets, great coffee, and end-of-week cold drinks to enjoy together.
Working with a world-class and multiculturally diverse team towards making a global positive impact.
More jobs at Relectrify
---
Electrical/Electronic Manufacturing, Engineering, Full-time
Abbotsford, Victoria, Australia
engineering
full-time
Electrical/Electronic Manufacturing, Engineering, Full-time
Abbotsford, Victoria, Australia
engineering
full-time