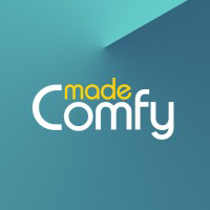 Inbound Sales in high growth business at MadeComfy
Full-Time, Inbound Sales Representative, Sydney, AU
About Made Comfy:

We are a passionate and diverse team with a mission to be Australia's most loved short-term rental and hospitality company. With a professional service and a customer-centered approach, we generate higher returns for our property owner clients in the short and mid-term rental market. MadeComfy guests enjoy the best parts of hotel stays such as professional cleaning standards and easy online booking, paired with the comforts of home like a full kitchen, separate living areas and the convenience of contactless self-check-in.
Company Culture:
We know that culture cannot exist solely within a single person, it lives within shared values, beliefs & behaviors. Our core values bind us together and amplify our abilities, we see them as timeless guiding principles - Trust, Agility, Empowerment & Wow

We're looking for an Inbound Sales Professional who brings expertise, drive, passion to be a fundamental part of our growth and success!
As Inbound Sales Representative, you will have full responsibility for your pipeline, meeting and exceeding medium to long-term sales targets. This role is perfect for a talented individual that has the ambition to succeed in one of the world's fastest-growing short-term rental companies.
Inbound Sales responsibilities are:
Identifying customer opportunities and building a solid pipeline
Responding fast to new inbound leads
Closing business over the phone
Formulating sales engagements and negotiation strategies
Working closely with our operations and onboarding teams to ensure an excellent customer experience from the start
Sell as a team and manage key stakeholders
Building strong collaborative internal relationships
Relentless focus on customer success and satisfaction, resulting in referenceable accounts and positive brand awareness
Skills and Experience:
Good experience and a track record in Sales, ideally with a fast-growing startup
Excellent verbal and written communication skills
Outstanding organisational and relationship building skills
Excellent interpersonal, networking and presentation skills
Aptitude in decision-making and problem-solving
Goal-driven attitude striving to be the best in the field
A dynamic and smart, hard worker with a passion and energy to drive new ideas and deliver excellent results
Background in Property Management, Investment Properties or Real Estate is a plus
Desire to join a fast-growing, revenue-generating, early-stage company and to build a strong and successful team
Why MadeComfy?
Join a fast-growing, multi-awarded Start-Up and be part of the success
We give you the flexibility, capability and environment to build your future
We are more than just a job!
So what are you waiting for, apply today and let us know what you can bring to make this role a full success!