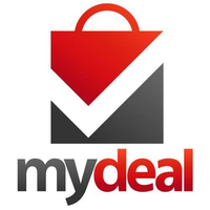 Customer Service Manager at MyDeal.com.au
Retail, Customer Service, Full-time, Melbourne, Victoria, Australia
MyDeal.com.au is an ASX listed online marketplace that focuses on providing "everything for your home" (furniture, homewares, garden, appliances and more). We connect our customers with millions of products sold by Australia's leading retailers.

At MyDeal, our customers and their experience is of most importance to us. One of our core goals is to ensure products that are purchased arrive safely with the customer, are as described and are delivered on time.
We aim to set the gold standard for customer experience - from our quality product selection, product listing quality (nailing key specs, features and benefits), following through to delivery and customer support. Always ensuring that our customers are treated with respect, priority and care for all of their purchases.
To support our rapid growth in sales, we are on the search for an experienced and inspirational eCommerce Customer Experience Manager, who is passionate about our business and values our customer experience and feedback.
We are on a journey of continuous improvement and learning from our customers is super important to develop and improve on our products, delivery and service to all customers.
Every customer is highly valued and is a testament to the success of MyDeal to date.
This is a permanent full-time position, located in our recently renovated, easily accessible, modern office on Collins street in Melbourne CBD.
Reporting to the Chief Merchandising Office, you will be directly responsible for;
NPS & CSAT for our in-stock business (DukeLiving)
Prepare weekly summary reports and action plans to improve service levels
Oversee and manage the customer support function, developing processes to increase efficiency and quality of responses
Represent, monitor and take ownership of the customer support team. Hire, coach and develop the team to improve customer correspondence
Pre-empt problems, prepare & deploy strategies to avoid or minimise issues
Monitor & communicate product issues for future purchase orders (you will play a key role in communicating product issues with our buyers and product listing improvements with our content team)
Requirements
5+ years proven experience in a customer focused environment
An understanding of Ecommerce order process and tools (CRM/ CMS/ WMS/ ERP etc)
A strong understanding of customer experience metrics (NPS, CSAT etc)
Proven experience in implementation of significant changes within an organisation, catered towards growth, efficiency and customer satisfaction
Experience building, training and developing an off-shore team
Demonstrated achievements in developing and applying customer experience strategies
Excellent computer skills, familiarity with various customer support tools that help improve our response efficiency
When safe to travel, be willing to travel overseas for short periods to work closely with the customer support team
Benefits
The opportunity to be part of the leadership team for our in-stock business.
You will play a key role in contributing to business decisions, strategies and development of systems and processes
Autonomy to train and build your team to focus and deploy organisational key results and objectives
Work in a fast paced, progressive learning environment where your impact is recognised and celebrated
Work in an environment that prioritises and highly regards customer satisfaction
Direct collaboration with wider MyDeal team (Logistics, Marketing, Sales, Buying) to continuously improve customer experience
Flexible work location
We respect and cultivate a collaborative culture and understand that working from home is an important part of supporting our employees
we do have a flexible work from home policy to meet both business and employee needs
Up for the challenge? Apply now with your CV and Cover Letter.
We look forward to seeing your application!
MyDeal.com.au is an equal opportunity employer and screens applications without attention to race, age, beliefs, sex, orientation, gender identity and disability.
More jobs at MyDeal.com.au
---