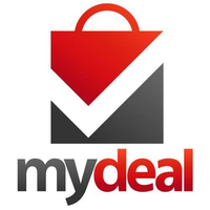 Full Stack Developer (Multiple Opportunities) at MyDeal.com.au
Retail, Information Technology, Full-time, Melbourne, Victoria, Australia
Looking for engaging work with a close-knit team in a well-located startup environment?
MyDeal.com.au (ASX:MYD) is one of Australia's fastest growing tech companies. Our web solution provides an online marketplace, focused on "everything for your home" (furniture, homewares, garden, appliances and more). We connect our customers with millions of products sold by Australia's leading retailers.
We are looking for a number of individuals across the full stack to help us scale our development efforts. The roles are primarily working across our well established ASP.NET MVC AWS solution suite and assisting in our migration to ASP.NET Core. Hands on experience with the full development life-cycle, where developers are encouraged to get involved and up-skill to learn new technology.
This is an autonomous role where you will play a key part in design & development of our core applications and on time delivery of projects within the organisation. The tech team is a small, but highly productive, group that values supporting individual needs and flexibility in how work is completed. Strongly connected to the business, developers are not restricted to coding only and are actively encouraged to propose improvements and help steer requirements.
Responsibilities
Help design new features and even whole solutions that extend the MyDeal suite.
Work on back-end tasks such architecting and designing REST API's, understanding and modifying existing implementation, front-end tasks such as UI Component creation.
Collaborate with PM's, BA's to interpret high-level requirements and designing a fit for purpose solution.
Assess designs for robustness, scalability and performance.
Participate in setting our tech strategy, ensuring the most effective and modern approaches are used to help achieve our goals.
Requirements
Strong development background in .NET stack including C#, ASP.NET MVC, ASP.NET Core, Entity Framework (6/Core), RESTful APIs.
Solid experience in front end technology, both server (MVC) and client side (JavaScript).
Strong knowledge of OOP, OOAD, MVVM, Design Patterns, Inversion of Control and Dependency Injection.
Proficient in using Entity Framework Core and SQL Database design.
Strong verbal and written communication skills.
Prefers working in a team environment, looking for best outcomes for all involved.
Advantageous
Modern front end framework skills are an advantage (to help drive our tech roadmap).
Skilled in responsive web design, CSS and accessibility.
Exposure working with NoSQL Databases such as DynamoDB and MongoDB.
Exposure working with AWS (EC2, S3, SQS, SNS, DynamoDB, ElastiCache, ElasticSearch / OpenSearch).
The Individual
The tech stack is flexible, but you will be required to have extensive .NET experience as this is a very autonomous position. Experience in AWS and responsive web design is highly valued. Culture fit is one of the most important factors when recruiting, a good attitude and passion for technology is a must. All skill levels are encouraged to apply.
Benefits
Work in a dynamic and inclusive start-up culture with passionate people that collectively possess over 100 years of eCommerce experience.
Play an important role in an ASX listed company that is experiencing unprecedented growth.
Industry competitive remuneration in a full-time permanent position.
Strong support for work-from-home and remote development.
A modern Collins Street CBD office easily accessible by tram, bus and train.
Excellent equipment provided including sit/stand desks, powerful laptop and dual 4K monitors with full motion stands.
Up for the challenge? Apply now with your CV, GitHub and Portfolio to organise a confidential discussion.
We look forward to seeing your application!
MyDeal.com.au is an equal opportunity employer and screens applications without attention to race, age, beliefs, sex, orientation, gender identity and disability.

More jobs at MyDeal.com.au
---