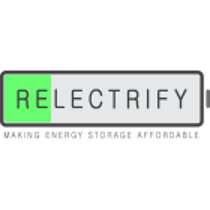 Project Manager - Battery Systems at Relectrify
Electrical/Electronic Manufacturing, Project Management, Full-time, Melbourne, Victoria, Australia
Note: This role strictly requires Australian working rights.

About Relectrify
Relectrify is a high-growth venture that builds cutting-edge technology to reduce the cost and unlock extra lifetime in lithium-ion batteries. By combining innovative electronics with intelligent algorithms and data analytics, our technology allows used electric car batteries to be given a second life as energy storage systems in households, the power grid and beyond.
Relectrify was founded in 2015 out of research at the University of Melbourne. The company has since launched projects with Volkswagen Group and Nissan subsidiary 4R Energy amongst other companies, and received support by leading clean energy investors including the CEFC Innovation Fund. The Environment Bureau Hong Kong, Falling Walls Germany and international utility program Free Electrons have all recognised Relectrify as a leading innovator in energy storage.

About the Team
Relectrify consists of a world-class team, who thrive on working together and solving seriously hard problems with a view to make a positive impact. Team members are given high autonomy with the ability to access support as necessary. As a venture-funded company, our focus is to rapidly enter markets where we can make a real difference.
In short, we are a group of motivated individuals rapidly deploying cutting-edge technology to make a positive impact. We also like discussing future trends, enjoying good coffee, board game evenings, and a healthy stream of positive humour.

About the Technology
Relectrify's advanced battery management system (BMS) comprises of three parts: hardware electronics controlling power flows inside battery packs; embedded software algorithms that inform how the hardware electronics operate; and data analytics to allows customers to monitor their batteries and allow continuous improvement of Relectrify's algorithms. Together Relectrify uses these to notably increase battery performance and lifetime.
Capable, affordable battery storage unlocks value for customers from farms to solar houses, power grids, and beyond. Relectrify therefore actively forms strategic collaborations with innovative, sector-leading storage companies across the world to jointly develop and release uniquely positioned storage products
The Role
Driven by the company growth and with an increasing number of projects being signed off, we are creating a dedicated project management function within the Relectrify organization. To fill this position we are looking for a highly capable and self-motivated individual to deliver an exceptional level of customer satisfaction.
You will be the coordinator and mediator between multi-disciplined teams with opposing interest. As a self-sufficient individual you are in charge of controlling essential project parameters like budget, time and quality. Your role involves the risk identification and risk management for a wide range of trial, pilot and volume production projects.
You will be working in a dynamic and constantly changing environment, thrive at the intersection of technology and business, and feel innate satisfaction from knowing your work makes a difference. Any team member with the right skills and attitude will have a significant opportunity to define their career trajectory.

You will work directly with our VP Partnerships on tasks including:

- Supervising the project-plan of each individual project
- Control the milestone-plan of multiple, complex projects simultaneously
- Own and deliver the projects and ensure the compliance of project deliverables to agreed parameters
- Take ownership of the change management and customer notification
- Monitor for possible project runaways and identify appropriate countermeasures if required
- Mediate and coordinate between customer, engineering team and business development group

Requirements
About You

- 4+ years experience in overarching, multi-disciplinary roles in engineering or business development
- Out of which, 2+ years in project management, preferably in electronics or battery management industries
- Excellent people skills, integrity, and interest to work with customers across geographies
- Trained in critical thinking and questioning the status quo, experienced in problem and conflict solving
- Highly relational IQ which motivates others, but shows persistence and insistence when required
- Intrinsic drive to search for workable compromises and mediate between significantly opposing interests
- A self-motivated individual, exceptionally skilled in time, resource and risk management
- An interest in, and understanding of, technical aspects around electronics, software, and/or power systems

- An interest in, and understanding of, the global energy storage market and battery technologies is an advantage
- Australian full-time working rights (min. 12 months)
Nice-to-Haves - but willing to waive for promising candidates
- A degree in Electrical / Electronics Engineering or equivalent
- Experience in technical business development, sales, or customer-facing engineering

- Experience formally managing individuals or small teams
- Experience in the energy storage or renewable energy sector


Benefits
Work environment
High independence, with a clear focus on delivery and quality.
Remuneration includes an opportunity to earn company share options, offering you an ownership stake in Relectrify.
Modern office in Abbotsford with bottomless coffee, office Spotify, and an increasing population of office plants
Flexibility in working hours to enable fitting in with other aspects of life, whether family, (kite) surfing, or anything other.
Flexibility in leave to enable team members to define their own renumeration-leave optimum.
Learning
Pay-you-back scheme on relevant online courses and other training.
We encourage you presenting at key conferences and events, and cover associated expenses.
Other Benefits
We've got plenty of space and a passion for personal projects, be it electronics, food computer building, or home brewing.
Continuously rotating cold drink collection for Friday end-of-week team wind-downs.